Couture millinery is made by hand, one stitch at a time.
Choose from any hat under "Products," or contact Paula to have a piece custom designed just for you. Many Derby hats are made to order and we can create the perfect hat for a specific outfit or look. We can't wait to work with you!
Featured Now: Kentucky Derby Hats
---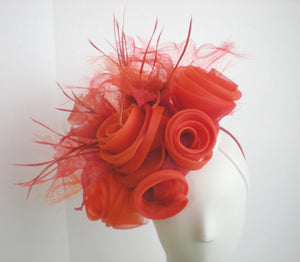 The Great Hat Exhibition, London
This fun piece was displayed at London's Great Hat Exhibition in March, 2018. Hand sculpted crinoline flowers, hand dyed sinimay and spiky feathers make for a party!
Kentucky Derby Winner
This hat was the lucky winner of the Judges' Choice award for the Kentucky Derby Museum Hat Contest in 2010. Hand blocked, hand sewn and hand dyed straw hat with handmade silk roses. We can customize any hat just for you!